Our Story
Mahogany is a self-described gifter and joy bringer. She has always believed it's important to celebrate people, life and experiences. After being nudged by family and friends, Mahogany finally decided to start a business where she could live her passion every day while also providing products reflective of her diverse community. Producing products and decorations for special occasions, where she is able to create and spread joy, is the best job anyone could ever have. That's why she chose the motto "Gift Joy, Get Joy" for GiftyWrap because she believes you get as much joy from giving as you do from getting.
At the core of her business Mahogany describes GiftyWrap as joyful, inclusive and midwestern and aims for her business to be a safe space to find celebratory products for all.
Minnesota is home for Mahogany, so GiftyWrap has a Midwest flair that replicates Minnesota's love for the outdoors and its commitment to artistry.
Gifting is joyful and if you aren't smiling and having a good time while celebrating, let us be the first to inform you that you are doing it wrong! Gifting is about love and spreading joyfulness with those closest to you. All of our patterns aim to help you spread that joy around.
Most importantly Mahogany understands how crucial representation is. Everyone deserves to see themselves and their culture in products that are commercially available. She grew up understanding Minnesota Nice to mean openness and a willingness to make space for all.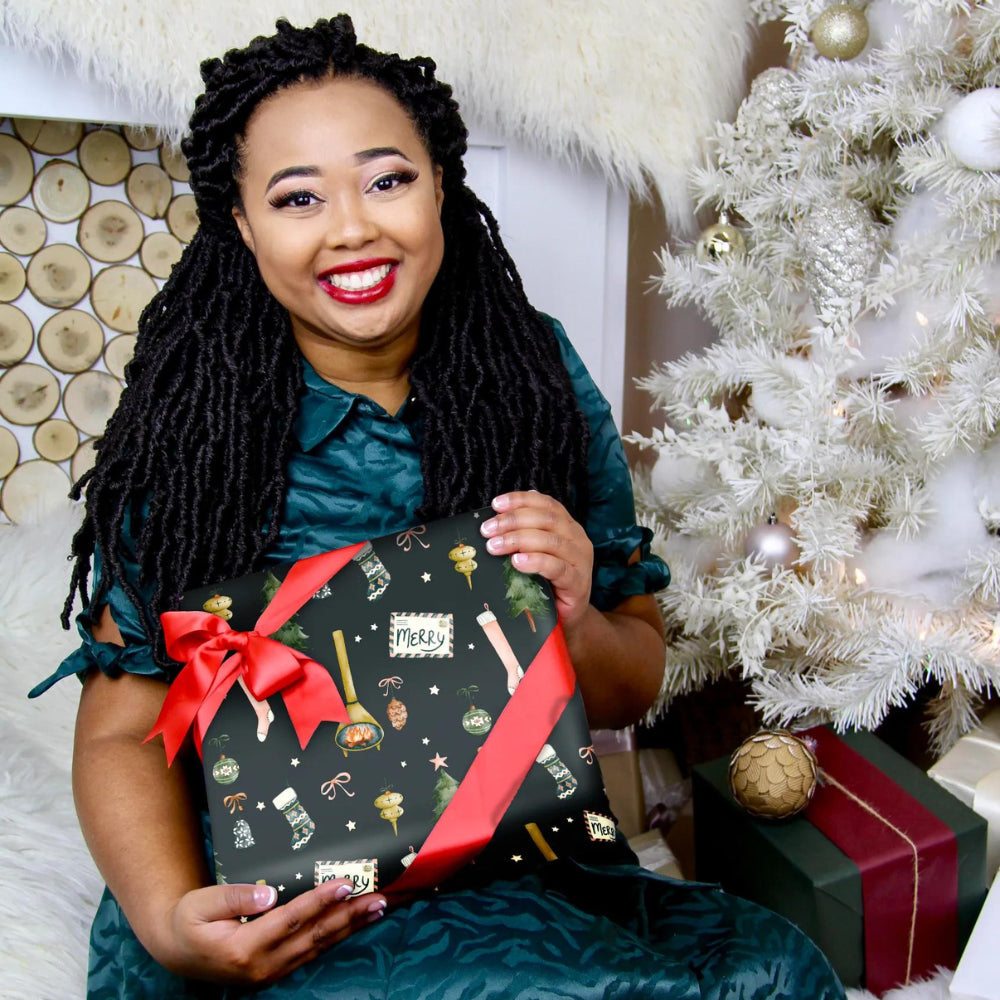 I had difficulty finding wrapping paper and other celebration products that represented the black community, but as I dove in, I realized there needed to be more representation of many cultures. The pain of not being able to find authentic & culturally relevant products is not a uniquely black experience. This opened up an opportunity for me to create a space that is inclusive for all. GiftyWrap is an expression of my unwavering desire to see diversity celebrated, my love for art and my "YOU BETCHA" spirit!
I am grateful to YOU!
I started my small business on a wing and a prayer in the middle of the pandemic. The outpouring of support from supporters and customers has been overwhelming. Every day I work hard to create a company we can all be proud of. GiftyWrap is still small, every dollar goes right back into the business. It goes towards paying artists, developing new products and keeping GiftyWrap environmentally friendly. I am proud to share that this year due to volume discounts, GiftyWrap is now offering our rolls for $12 (vs. $14 in 2021) and all of our rolls have increased in length from 6ft to 10ft (some rolls are even 15ft!). With continued support and sustained sales from shoppers like you, I can continue to offer high quality products at quality prices. I cannot wait to continue to share GiftyWrap's successes.